Taito's RayForce is far from the first shoot-'em-up to have enemies attack from different "layers"—that's a convention that goes back at least as far as 1982's Xevious. But across three games that hit arcades in the late '90s, the Ray'z series made this 2.5D approach to combat its defining quality. Scoring mechanics, enemy patterns, and level design are all woven around your ship's ability to target lower-altitude enemies with a lock-on laser, and with the move to 3D graphics and more dynamic camera angles, the latter two games kicked this concept up a whole lot of notches. Fast-forward a couple of decades, and this trilogy joins the ever-growing pool of classic shmups on Nintendo Switch in the form of Ray'z Arcade Chronology.
This collection includes all three games—RayForce (1994), RayStorm (1996), and RayCrisis (1998)—bundled together with the usual bells and whistles: quicksaves, built-in achievements, extra UI "gadgets" to make key game information more visible, and so on. Control settings have rapid-fire options at a variety of different frequencies, and there's full support for vertical play, either with or without controls rotated as well. The overall feature set and presentation is similar to Taito's other arcade collections, and while it doesn't have the same degree of archival material as the likes of, say, Darius Cozmic Collection, the emulation is solid and the extra tools are always welcome.
As a quick aside, you'll also find RayStorm X RayCrisis HD Collection on the Switch eShop—this is largely the same, albeit without RayForce included.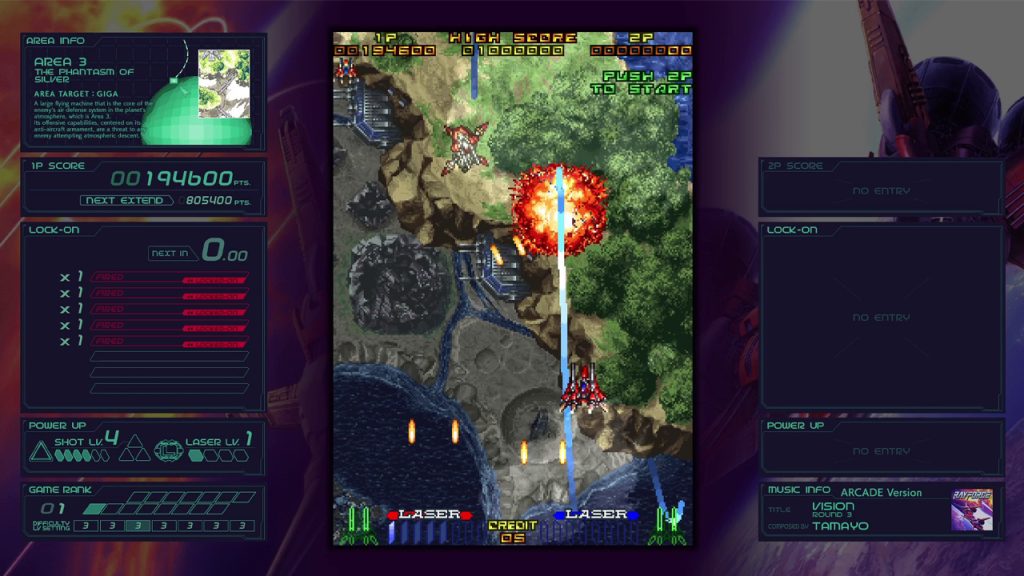 Additionally, for RayStorm and RayCrisis, the package includes both HD remasters and the arcade originals. The only real difference is upscaled 3D assets in the HD versions, but both games have enough style that a little extra crispness is all it takes to keep them from feeling dated. RayForce doesn't have any sort of HD mode, but it doesn't need any, either: it's a pixel-perfect rendition of a game from the height of the 2D arcade era, when developers were really pushing what 32-bit systems could do with pixel art, and it looks as impressive as ever.
Which brings us to the games themselves, and the journey that Ray'z Arcade Chronology invites you on by bundling the whole trilogy together. Each game is fun and worthwhile in its own right, but having them presented alongside each other like they are here really highlights how innovative they all were, how they pushed the limits of different hardware, and how they each built on what came before.
RayForce sets the foundation that defining "layered combat" aspect in large part because of how it capitalised on what Taito's F3 arcade hardware could do. With clever use of more demanding 2D techniques like sprite scaling, RayForce manages to sell a convincing illusion of three dimensional space, paving the way for a shooting game concept that makes varying altitude its central conceit. You've got two weapons, a cannon for enemies on the same "layer" as you and a short-range lock-on laser for enemies below, but that doesn't mean a clear-cut air/ground division. Flying enemies will often start below you before ascending to your level or move back and forth between layers, while bosses tend to span both. The result is an exciting dynamic where the need to balance those two attacks is fluid and ever-changing.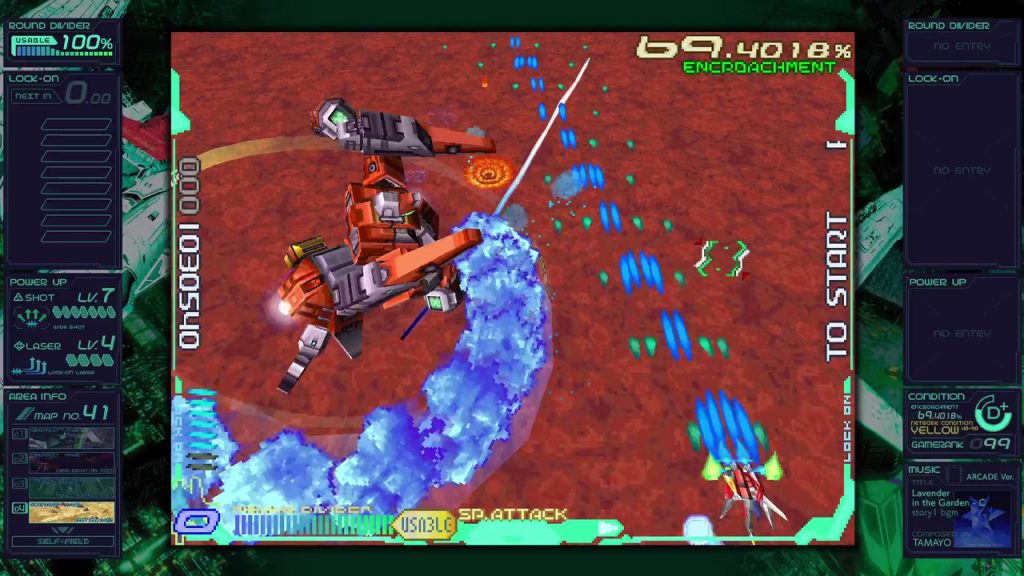 With its shift to polygonal 3D graphics, RayStorm kicks that concept up a notch. While the game still plays on a 2D plane, with actual depth instead of the illusion of it and a camera that's no longer fixed to a top-down perspective comes the ability to really experiment with that whole "two-layer" concept. Regular changes in perspective make the edges of those "layers" a constantly moving target, as even fixed targets can move between planes with a sweep of the camera. There are moments where camera movement makes RayStorm feels almost like a rail shooter, albeit with a more classic top-down view of your ship—one level that sees you weaving through a swarm of giant battleships is a particularly memorable example. Yet even with your altitude relative to your enemies in constant flux, RayStorm uses simple visual cues to avoid blurring the line between layers too much, ensuring that you can still see at a glance what plane a given threat is attacking from.
And then along comes RayCrisis to kick things up again. While the rail shooter-esque camera goes into overdrive here, making the two-layer combat feel even more dynamic (and chaotic, for better or worse), the fundamental mechanics aren't dramatically changed from RayStorm. Instead, RayCrisis' innovations are more around game structure: the sequence of levels is semi-randomised, with 42 different configurations of them available. On top of that, the new "Encroachment" mechanic dynamically affects game difficulty depending on how quickly you kill your enemies, while also being the key to unlocking different endings and fighting a hidden final boss. The result is a game that can change a lot from run to run, adding a neat new set of challenges.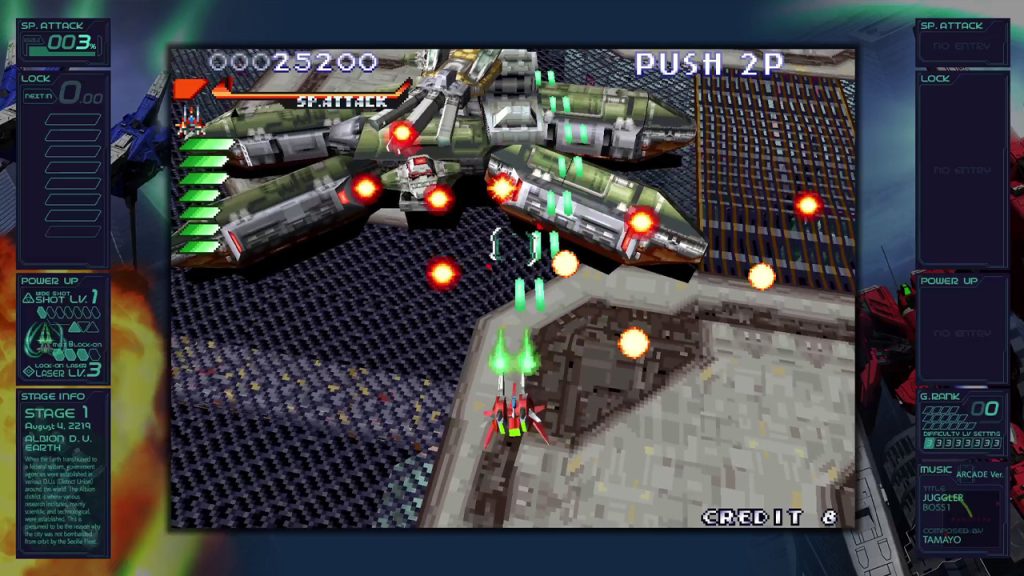 As I said, each game included here is a lot of fun in its own right—if you just want to jam some good, classic shmups, or maybe revisit an old arcade favourite, you're in good hands here. But as is often the case with a collection like this, the story that unfolds when you have a whole series presented side-by-side in one package can be a fascinating one. With Ray'z Arcade Chronology, that story is the way Taito took a nifty concept—RayForce's two-layer combat—and turned it into a particularly creative, experimental approach to the shift to 3D graphics.
---
Reviewed on Nintendo Switch with a review code provided by the publisher.
Ray'z Arcade Chronology brings another set of iconic arcade shoot-'em-ups to Switch, and reminds us just how innovative '90s Taito could get when experimenting with new technology.